Freedom Leverages the Power of Digital for More Effective, Profitable Direct Marketing
April 18, 2022
Freedom Leverages the Power of Digital for More Effective, Profitable Direct Marketing
MILTON, WI – The following article was published by WhatTheyThink.com and authored by Cary Sherburne. In this feature, sponsored by HP, we explore how HP PageWide production inkjet printing systems have benefited leading direct marketing firm Freedom, based in Milton, Wisconsin. The company was an early adopter of production inkjet printing and now has three HP PageWide production inkjet presses installed.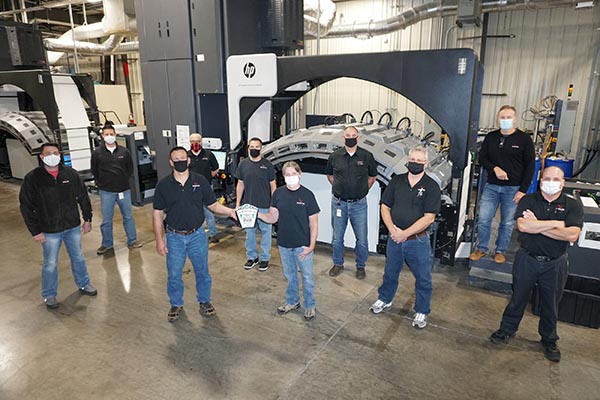 Ever wonder how that direct mail that shows up at your house gets printed? Most people probably don't give it a second thought, but consciously or subconsciously, they notice the quality of the print, the relevance of the content—especially images—and they likely keep that printed piece around the house where it is seen more often than fleeting electronic communications.
Freedom, a Wisconsin-based data-driven communications and direct mail company, is well aware of the importance of all of these characteristics, in driving both brand awareness and conversion for its clients. The company, founded in 1986, has been using HP PageWide T-380 production inkjet presses for more than a decade and currently has three systems installed. Freedom employs a staff of 600 employees and runs both web offset and production inkjet presses. Freedom operates from six campuses: three in Milton, Wis.; two in Illinois; and one in Grand Prairie, Tex. Freedom generates about $145 million in annual revenues.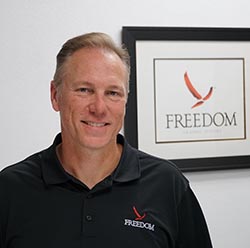 "We focus 100% on direct mail solicitation," said Eric Blohm, Freedom President. "That is primarily personalized letters that go either directly in the mail or into letter packages. We primarily serve the financial services, insurance, healthcare, nonprofit, and telecommunications markets, but we also serve other verticals as well. Over the past seven years, we have been investing heavily in automation to drive more volume and capabilities from our existing platform, reducing downtime and labor while speeding up cycle time."
Freedom's investments include production inkjet to augment its offset printing capabilities. The company acquired its first HP PageWide T300 production inkjet press in 2011, a short three years after the product was introduced, but not yet commercially available, at drupa 2008. Today, Freedom has three of these presses, including one re-manufactured unit, all of which have been upgraded to the T-380 technology and operating system. The four-color presses print duplex at 1200 x 600 dpi over a 30-inch-wide web at speeds of up to 800 feet per minute. They all feature HDNA quality and use HP pigment inks with a colorless bonding agent.
Digital Printing Drives Differentiation for Freedom
"As a data-driven business in direct marketing, and based on the markets we serve," Blohm said, "one of the big drivers for us is to be able to manage the increase in demand for versioning that we are seeing from our client base. Over the seven years I have been at Freedom, we have seen a 25% increase in versioning, year after year. Clients are refining their databases and aligning their creative to a variety of different personas. Not only is demand for versioning growing, but we are seeing it get more complex and image rich." Blohm points out that when you move a versioned job from offset to digital, the versioning is virtually free—no plate changes or press stops. It just runs the job seamlessly.
Blohm also identified postal optimization as a key driver, saying, "As we continue to see increased postal rates, how can we offset some of those increases? We can do that by combining versions together in a digital print run, optimally sorted for mailing, and that lets us reduce postal cost for our clients."
Of course, in an ever-accelerating business environment, time to market is also important, and Blohm notes that digital printing can significantly reduce cycle time. He added, "There is also reduced paper waste when compared to offset."
In addition, Blohm cited mitigation of labor issues, explaining that offset press operators are increasingly hard to find, and recruiting younger workers to run lithographic presses is even more challenging. "What we learned is that by adding digital presses, we can not only more easily recruit employees to operate them, but it does not require the same skill level required to operate a litho press. A more technology-oriented work environment, such as that represented by the HP PageWide production inkjet presses, makes the employment opportunity more attractive, especially for younger workers just entering the industry."
Over the past seven years, Freedom has decommissioned several web offset presses while still producing the same amount of product. Blohm explained, "As we have replaced offset presses with digital, we have been able to transition that offset work to digital with no change for our clients in terms of quality or performance.
Blohm noted that even though an offset press might print at a higher speed than digital, when you take out the time required for making and mounting plates, as well as changing plates for version changes, run speeds between offset and digital are not that different in his environment, adding, "In a sense, with digital, I am eliminating the middle of the factory, taking steps and equipment out of the equation. On average, we believe that reduces our cycle time by at least 15%, and that gives us 15% more capacity right out of the chute."
Evolving Ink Technology Delivers Increased Conversion to Digital
According to Blohm, prior to HP's introduction of the HDNA printheads, it was more difficult to get clients to convert to digital inkjet printing, noting, "If you had a special brand color, it could be difficult to achieve that exact color match. But now with the HD inks, we are able to achieve 90% of client color requirements accurately and consistently, which has helped us migrate more work to digital."
"With the newer inks," Blohm continued, "we have also been able to increase the gamut of paper substrates. We are now able to utilize a lot of different brands of paper, and clients are very happy with the results. My view is we need to understand our clients' applications, and then align the right technology platform to that application. Increasingly, production inkjet meets a wider array of those requirements."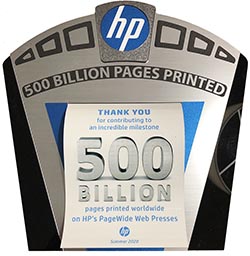 Freedom is a high-volume mailer and their goal, according to Blohm, is to reach a 50/50 split between offset and digital. "We have had months where we have done that," he said, "and we are actively and successfully transitioning our clients to digital. We've had clients tell us the inkjet printing is crisper and more brilliant, and a number of clients are more or less opening the gate to give Freedom the ability to make the decision about whether a job is produced by offset or digital presses based on workload and available capacity. That's great progress!"
Exceptional Service and Support
"One thing I will say about HP," Blohm commented, "is that I have been extremely impressed with their ability to upgrade presses on the floor. When our first press was upgraded, the HP team came in kind of like a pit crew at a race. They took the press apart, put it back together, and they did a remarkable job. When we bought the refurbished press, we had no doubt they would do a good job on re-manufacturing it and quickly getting it installed. They lived up to our expectations."
To learn more about how Freedom can enhance direct marketing strategies with HP's PageWide Web Presses, visit our Request for Information page or call 800-334-3540.
About Freedom
Freedom is one of the largest privately held direct mail companies in the United States with five manufacturing facilities strategically located throughout North America. Specializing in the production of loyalty & acquisition direct mail programs, Freedom offers "inline" and "offline" traditional and 4-color fully-variable digital printing, in-house lettershop, extensive laser & inkjet personalization capabilities, mailing services, in-house commingling, logistics, and multi-channel marketing solutions supported by a proprietary client interface & campaign management technology platform.
Let us drive Your Results Through Direct Marketing.
GET stARTED